The Secret to the Strength of Immunology Research at Osaka University -- Over 100 Years of Tradition and Research
Maintaining a World-Class Level in Research
Osaka University is one of the world-class immunology research centers where world famous researchers can gather together. In the last 5 years, three Japanese researchers have won the Canada Gairdner International Award, which is referred to as a step on the ladder to the Nobel Prize. Two of them are immunology professors at Osaka University. Many theses by researchers at Osaka University have been cited by researchers in Japan and abroad and are expected to be used in clinical application. Thomson Reuters, a literature information company in the U.S., analyzed the number of influential theses and announced the research institutes' rankings in Japan in April 2015. In the past 11 years, Japan ranked 5th in immunology in the number of citations in the top 1 percent. In this field, Osaka University outdistanced The University of Tokyo and Kyoto University, leading the field in Japan. A larger number of citations means a stronger impact on successful research.
Research That Leads to Clinical Application
Recent progress in the field of immunology has increased the importance of immunology research. Compromised immunity decreases resistance to infectious diseases and an excessive immune response causes various diseases to develop. Immune response-related diseases such as systemic lupus erythematosus make up a large number of the intractable diseases designated by the Health, Labour and Welfare Ministry. Application to cancer therapy including cancer vaccination has also been attempted many times.
Osaka University has made great contributions to clinical application. Interleukin 6 receptor inhibition antibody, Actemra (generic name: Tocilizumab), a miracle drug that drastically changed the treatment of articular rheumatism (AR), was jointly developed by a research group led by KISHIMOTO Tadamitsu who served as an OU president for 6 years from 1997 and a pharmaceutical company. This drug brought benefits to many patients. In 2013, sales of the drug in the world exceeded 100 billion yen, making it a blockbuster drug. Interleukin 6 was discovered by Dr. Toshio Hirano (current president of Osaka University) and Dr. Kishimoto in 1986, overcoming competition from the world. Later, interleukin 6 was found to play an important role in autoimmune diseases such as AR and chronic inflammatory disorder. They won the Crafoord Prize from the Royal Swedish Academy of Sciences in 2009 and the Japan Prize in 2011 for their achievement.
Dr. Yamamura's Students and Human Network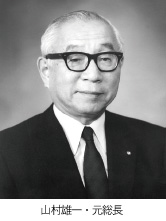 Why is immunology research actively conducted at Osaka University?
That dates back to SATA Aihiko, who served as the school principal at
Osaka Prefecture Medical School, the predecessor to Osaka University.
Around the turn of the 20th century, lung tuberculosis (TB) was spreading among the poor in Osaka and there was a large projection in the number of patients.
In 1905, Dr. Sata established the department of lung TB. In 1925, IMAMURA Arao took over him as a professor and the name of the department was changed to the Internal Medicine 3. Later, Internal Medicine 3 became the Center of Immunology Research at Osaka University, leading to the current Department of Respiratory Medicine, Allergy and Rheumatic Disease and the Immunology Frontier Research Center.
Immunology research at Internal Medicine 3 was established by former president YAMAMURA Yuichi, who served as a professor from 1962 to 1980. Dr. Yamamura was impressed with immunology classes by Professor Tenji TANIGUCHI as a student at the Osaka University Faculty of Medicine. Reading his book Falling in Love with Immunology , Dr. Yamamura shuddered with excitement. "Compared with other classes which simply had us repeating past brilliant performances, his classes were fresher and more attractive," he said.
After World War II, Dr. Yamamura worked at Toneyama National Hospital and became famous for his TB research. After he became a professor at Osaka University, he reached outstanding results, placing an emphasis on cancer immunotherapy as well. He is also the founder of the Japanese Society for Immunology.
Professor Atsushi KUMANOGOH, Dr. Yamamura's 4th successor at the Department of Respiratory Medicine, Allergy and Rheumatic Disease (former Internal Medicine 3) said "Enthralled with Dr. Yamamura, eminent students from the Faculty of Medicine students, including Dr. Kishimoto (former OU president), asked for Dr. Yamamura's instructions. Not only from the Internal Medicine 3, but also from outside OU, outstanding researchers, including HONJO Tasuku and TANIGUCHI Tadatsugu, came to OU."  In his book, Dr. Yamamura wrote that those had made the biggest impression to him were the three graduates of 1964, the first batch of students at the department: Dr. Kishimoto, OGAWA Makio, and HAMAOKA Toshiyuki. Lectured by Dr. Yamamura, they decided to join Internal Medicine 3.
Fascinated with Dr. Yamamura, President Hirano also entered Internal Medicine 3 in 1972. In 1978, at Osaka Prefectural Habikino Hospital (currently Osaka Prefectural Medical Center for Respiratory and Allergic Diseases), Dr. Hirano started to refine interleukin 6 from lymphocytes in pleural fluid from patients with tuberculous pleuritis, which must have been achieved thanks to the tradition of the Internal Medicine 3.
Two months before he passed away, Dr. Yamamura gave President Hirano some calligraphy written on a paper board. It said: "Even though the tallest tree can never reach the sky, it continues to grow and strives to touch it!" The board is still on the wall of the President's Office.
People Raise People
Many excellent people attracted by Dr. Kishimoto, a pupil of Dr. Yamamura, learned many things from each other. Professor Shizuo AKIRA at the Immunology Frontier Research Center was one of them. 6,000 mice were used for experiments for interleukin 6 research, which produced a legend that laboratory mice in Japan had disappeared.
Later, Professor Akira became a professor at Hyogo College of Medicine and developed innate immunity research and won the Canada Gairdner International Award in 2011 just prior to Dr. Shimon Sakaguchi's winning of the very same award, making two winners from Osaka University. Today, it is known that Toll-like receptors (TLRs), proteins that react in the innate immune system, react not only to pathogens sensor but also to substances accumulated due to stresses and aging. It is also known that TLRs are related to life-style diseases such as arterial sclerosis and diabetes, which has drawn the attention of many. The tradition of Internal Medicine 3 still continues to this day. Professor Kumanogoh says, "In the four years after I assumed the position of professor, some 100 people joined our department. Students from all corners of the country come to Osaka University with various professors." (NEMOTO Takeshi, Science and Environment Department, The Mainichi Newspapers Co., Ltd)
Immunology Research Handed Down at the Faculty of Medicine -- From the Past to the Present
The History of the Laboratory
The Department of Respiratory Medicine, Allergy and Rheumatic Disease at the Graduate School of Medicine was launched by Professor Aihiko SATA in 1905 in order to research TB which ran rampant at that time. The department played a great role in the prevention and treatment of TB in Japan as demonstrated in their accomplishments which led to the establishment of the Tuberculosis Prevention Act through TB screening and BCG vaccination as well as clinical research about TB chemotherapy.
Later, the department developed as the Internal Medicine 3 in charge of treatment, research, and education of internal medicine such as respiratory diseases other than TB; disorders of cardiovascular organs, digestive organs, endocrine metabolism, nerve, blood, and immunity. As immunology research is actively pursued as a new field of study, the department developed molecular target antibodies as results of their research and introduced them to treatment of AR. In 2005, the Internal Medicine 3 in charge of treatment and research of internal medicine was reorganized into the Department of Respiratory Medicine, Allergy and Rheumatic Disease,  performing treatment, research, and education of respiratory diseases, immunology (including cancer immunology) and allergy diseases.
About KUMANOTO Atsushi
A graduate of the Osaka University Faculty of Medicine in 1991 completed the doctoral program at the Osaka University Graduate School of Medicine. At the Research Institute for Microbial Diseases, he held the positions of assistant in 1997, assistant professor in 2003, and professor in 2006.
Since 2007, he has held his position as a professor at the Immunology Frontier Research Center and since 2011, he has held his position as a professor the Department of Respiratory Medicine, Allergy and Rheumatic Disease. He won the Japan Society for Immunology Prize, Osaka Science Prize., and more. In 2015, he was chosen as a member of the American Society for Clinical Investigation (ASCI).
In the process of exploring genes relating to CD40, an immunomodulatory molecule necessary for immune response, he isolated cDNA of semaphorin CD100/Sema4D, a molecule thought to be a guidance factor, and clarified the role of semaphorin in the immune system, a world first.