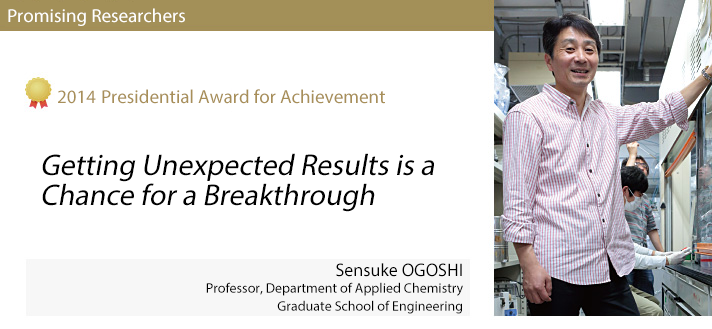 Sensuke OGOSHI, Professor, Graduate School of Engineering
The primary focus of Professor Sensuke OGOSHI's research is organic metals such as nickel. From catalysts to the manufacturing of liquid crystal materials, to drug discovery, organic metals are familiar to our daily lives. "I observe the catalytic reactions that pass through labile intermediates.  Not only the entrance or exit, but also the process is important." This approach focusing on the story leading up to the results is also a reason why he is cited in many theses.
As for what's to come, Professor OGOSHI plans to take his research from industrial application such as fuel batteries and microfabrication involved in integrated circuits, to a wider scope, such as medicinal products containing fluorine, among other applications.
According to Professor OGOSHI, the reason he started down the path of research was because "when I was studying organometallic chemistry under Professor Shinji MURAI (former president of the Chemical Society of Japan and emeritus professor, Osaka University), I couldn't get the data that I wanted," he explains. So even now, "getting results that I didn't expect is a great feeling, and determining the reason for those results is a chance for a breakthrough.
"Professor MURAI used to say, 'Standing in the cross fire is where true research takes place.' Being at the forefront of that is the real thrill of being a researcher," said Professor OGOSHI.
While walking on the leading edge of his field, Professor OGOSHI also puts his energy into cultivating younger researchers. He develops his students during study sessions and makes them write those "cumbersome" reports by hand. In order to make his students suitable human resources for today's society, his process of developing his students may be a bit severe, but he figures "if they figure it out when they're 30, then that's good enough."
Professor OGOSHI is also involving in the planning of "Dream! Chemistry 21," which allows young people to experience the mysteries of chemistry, and gives these high school and vocational school students a chance to visit his laboratory. Professor OGOSHI is also an avid tennis player, which he says is a great form of stress relief.
For both chemical reactions and human resources, cost and time cannot be ignored. However, Professor OGOSHI lives by his motto of "showing quality of work even when faced with limited resources." It's this kind of attitude that creates a positive, forward-looking atmosphere in Professor OGOSHI's laboratory.
About Professor OGOSHI
A graduate of the School of Engineering at Osaka University in 1988, Professor Sensuke OGOSHI completed his doctorate degree in engineering at the Graduate School of Engineering, Osaka University. After serving as an assistant at the School of Engineering, he became a professor at the graduate school of Engineering in 2007. He has received multiple accolades for his work, including the Chemical Society of Japan's Progress Award (2001) and the 31 st Academic Award (2014). Professor OGOSHI received the Presidential Award for Achievement in Research in 2013 and 2014 for the second year in a row. He also holds multiple patents, including creation of organic fluoride compounds and the process of manufacturing organometallic compounds.