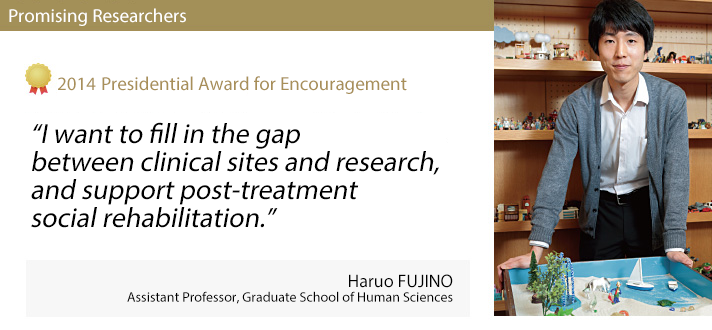 Haruo FUJINO, Assistant Professor, Graduate School of Human Sciences
Assistant Professor Haruo FUJINO first began to explore his future when, as a high school student, he came upon an idea which he pondered quite seriously: "What is a human?" After wondering what he could do for those around him who were having emotional troubles, he decided to enter the School of Human Sciences at Osaka University. Surrounded by many students striving to become clinical psychologists, he felt enjoyment in investigating the "what does it mean?" of his field, and started down his path as a researcher.
The reason for his selection for this year's President Award for Encouragement lies in his research involving the cognitive function of patients with schizophrenia. "We have seen advances in the improvement of symptoms of schizophrenia such as hallucinations and delusions through medicinal treatments, but social rehabilitation could prove to be difficult. We need to address this gap." From this thought, Assistant Professor decided to search for the characteristics of the cognitive function of patients with schizophrenia through a large scale survey of hundreds of subjects, including both those with and without schizophrenia. As a result of these surveys, Assistant Professor FUJINO states that he was able to "scientifically back up facts that were known empirically at clinical sites." He continued by saying that he wants to use these results to "not only for medicinal treatment methods, but also for skill training and assessments."
While leading a very busy life as a researcher, Assistant Professor FUJINO also finds time for this hobbies, one of which is playing the flute. A tenor sax player in his high school brass band, he was enraptured with the soft sound of the flute, and finally obtained one (with the money earned from his part-time job) after entering college. "Playing a musical instrument is a nice change of pace. Harmony is important in a musical performance, and there are times when this experience overlaps when taking care of my counseling patients and my family."
In addition, Assistant Professor FUJINO practices psychological care through expression therapy and counseling using miniature gardens in his psychoeducational counseling office. This therapy is primarily focused on helping those with psychological difficulties and children who do not attend school or have developmental issues.
"Through supporting my patients psychologically, I hope to improve the quality of their lives, however minute that improvement may be," Assistant Professor FUJINO said in a quiet tone, but his passion shone through.
About Assistant Professor Haruo FUJINO
A 2009 graduate of the School of Human Sciences at Osaka University, Assistant Professor FUJINO completed his doctorate course in the Graduate School of Human Sciences, and became an assistant professor in the Department of Clinical Psychology in 2013, specializing in clinical psychology. His current focus is researching the impairment of cognitive function in patients with schizophrenia, but he is involved with various other research topics as well.