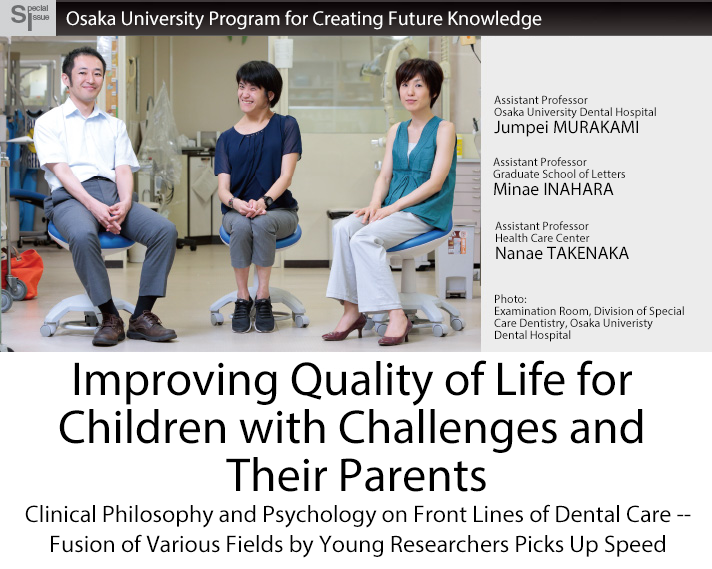 Improving Quality of Life for Children with Challenges and Their Parents
At Osaka University, in order to give birth to new seeds of research, the "Program for Creating Future Wisdom" was started in 2014. This program supports the collaborative research of three young researchers from different fields. One of the projects within this program, and the one that will be introduced here, falls under the title of "Developing a Comprehensive Support Program for Children with Special Needs and Their Caregivers in Dental Settings." Through an approach involving fields from both arts and sciences, specifically Special Care Dentistry, Clinical Philosophy, and Clinical Psychology, Assistant Professor Jumpei MURAKAMI and his team spoke about their efforts to deepen their understanding of those patients with challenges and their parents, and connect this understanding to the support that will raise their quality of life.
Mutually Energizing Each Others' Research
It began with a single email.
The sender was Assistant Professor Nanae TAKENAKA, who had just started in her current position at the student counseling room at OU's Health Care Center, and the recipient was Assistant Professor Minae INAHARA of the Graduate School of Letters. Assistant Professor Takenaka saw the Program for Creating Future Wisdom as a "chance to meet other researchers within the university," and she searched for researchers with similar interests to hers through the Osaka University website. Eventually, she sent an email to Assistant Professor Inahara, who researches the coexistence of average individuals and those with challenges as one of her research topics, stating a proposal along the lines of "It would be nice if there were research we could perform together that made use of both of our fields..." The area of dentistry for individuals with challenges, a field in which Assistant Professor Inahara herself had planned to give a lecture, might have potential, so they reached out to Assistant Professor Jumpei Murakami of the Division of Special Care Dentistry at Osaka University Dental Hospital, and the three researchers from completely different fields met face-to-face. As they were talking, there was one glimmer of inspiration that something could be born through comparing their individual research tasks and fusing them together.
The Parents Burdened with "Difficulty to Live"
Assistant Professor Murakami, through interacting with children with various challenges and the parents of those children, realized that many mothers are burdened with worries and "difficulty to live." "If the parents don't have energy, the children won't either. I wondered if I couldn't do more to support the parents," thought Assistant Professor Murakami, and while searching for a solution, he was called out to by experts in the fields of clinical philosophy and clinical psychology, which he called a "godsend."
On the other hand, Assistant Professor Inahara herself has slight brain paralysis caused by lack of oxygen in the incubator at the time of her birth. She retains frightening memories on the examination table at her dentist's office in her childhood. However, based on the security she felt while receiving dental care in Australia, where she studied abroad, she gave a lecture at the Kansai Clinical Society for Disability and Oral Health in June 2014. She urged those on the front lines of medical care to "build a trusting relationship with your patients."
Observing, Understanding, and Offering Support
All three recognize that mutual understanding between patient and healthcare professional is indispensable. "One understands by first lending an ear to others, staying close to their actions, carefully observing, and connecting this to the reality in which each individual is living." Utilizing such a process from clinical philosophy and clinical psychology to plot an approach for their target group, their idea for a program that could be utilized on the front lines of medical care began to take shape.
Specifically, Assistant Professor Inahara holds group style "Philosophy Cafés," while Assistant Professor Takenaka performs one-on-one psychological therapy, both of which are ongoing. Assistant Professor Inahara also attends medical examinations, where she carries forward with her observations and descriptions. Through sharing and analysis of information between the three researchers, the results can be passed on to on-site medical examinations. In addition, the three have asked Professor Kenji ARITA, a head of the Department of Pediatric Dentistry at Osaka Dental University and an expert on dental care for children with special needs, to participate as a research collaborator.
Surveys, Lectures, and More
Within the year, the team will explore needs regarding philosophical dialogues and psychological therapy through surveys of parents, while selecting around 5 individuals to act as research participants. They will begin actual practice in January, 2015, for an allotted time period of 3 years. The team then plans to enter into comprehensive analysis starting around July of 2016. Parallel to these surveys, the team also plans to perform observations overseas with the aim of building a multi-layered support program. They plan to visit a room for dental care at a school for children with autism in the UK, as well as a special needs dentistry center at a university in Belgium. In addition, there will also be lectures held by experts in the field on the importance of psychological support for parents of children with special needs.
Expansion into Other Medical Fields
Assistant Professor Takenaka, who is in charge of the psychological therapy side of this research, stated, "There are also a number of concerns, such as how much we can actually hear from the parents and guardians. I think sensitive response and observation are necessary, meaning readiness and one's studies are a must. I hope this also becomes a challenge in the sense that this will display the point of view that we will care for body and mind in one place." Assistant Professor Inahara added, "Philosophy isn't something that is sitting on your desk, but rather, it begins with taking a step back from what we take for granted and asking 'What is it?' and 'Why is it?' However, there are no definite answers. We open our hearts, lend an ear, and talk about ourselves. If this could become even the smallest impetus to think together with parents about their relationship with their children, their own condition, and their demands of society, I would be thrilled."
Assistant Professor Murakami went on to say, "At the moment, we're still in the very early stages. Because our individual tasks are in our respective fields, it may not seem difficult, but we'll need to rack our brains in order to figure out how we can return what we've obtained to clinics. We've realized that there are needs for this research, so I don't think we'll end up with unfavorable results. I'd be happy if what we've established through this research contributes not only to the improvement of special needs dentistry, but also to other medical fields, around Japan and around the world.
Program for Creating Future Wisdom
The Program for Creating Future Wisdom supports the creation of on-campus joint research systems for young researchers at Osaka University. It aims to cultivate a variety of research projects and produce creative and unique ideas as well as human resources, thereby opening the path to the future. This program supports joint research projects with new themes in order to support Osaka University's future and provides projects selected with money necessary for conducting joint research and compiling the research results for three years. Started in 2014, this program had 28 applications in its first year, of which 12 were selected.
---
Jumpei MURAKAMI

A 1998 graduate of the School of Dentistry at Osaka University, Assistant Professor Jumpei MURAKAMI completed his graduate course in the Graduate School of Dentistry at Osaka University in 2002. After serving as a staff member and assistant at the Osaka University Dental Hospital, he became an assistant professor in April of 2007. In July of 2008, he became the Chief of Outpatient Clinic in the Division of Special Care Dentistry. He is currently researching support of dental visits for those with Down syndrome, visual impairments, hearing impairments, and autism spectrum disorder. Assistant Professor Murakami received the Presidential Award for Encouragement in 2014.
Minae INAHARA
Assistant Professor Minae INAHARA graduated from the School of Humanities and Social Science of the University of Newcastle, Australia in 1994. After attending graduate school at University of Newcastle, she completed the doctorate course at the Graduate School of Philosophy at the University of Hull. Assistant Professor Inahara then served as an Uehiro Specially Appointed Researcher at The University of Tokyo Center for Philosophy, Graduate School of Arts and Sciences/College of Arts and Sciences, Tokyo University, before taking her current position in April, 2013. Her field of expertise includes body theory, feminist theory, phenomenology, and the philosophy of special needs. Assistant Professor Inahara received the Presidential Award for Encouragement in 2014.
Nanae TAKENAKA
Assistant Professor Nanae TAKENAKA graduated from the Faculty of Education at Kyoto University in 2002. She completed her doctorate course at the Graduate School of Education in 2007 and served as a JSPS Assistant Professor from 2007 to 2010 in the same graduate school. Assistant Professor Takenaka has her doctorate degree in education and she also serves as a clinical psychologist. From 2010 until March, 2014, Assistant Professor Takenaka studied Jung psychology in Berlin, Germany, and has been serving at her current position as assistant professor since April, 2014. Her current research topics include Jung psychology and psychological therapy.