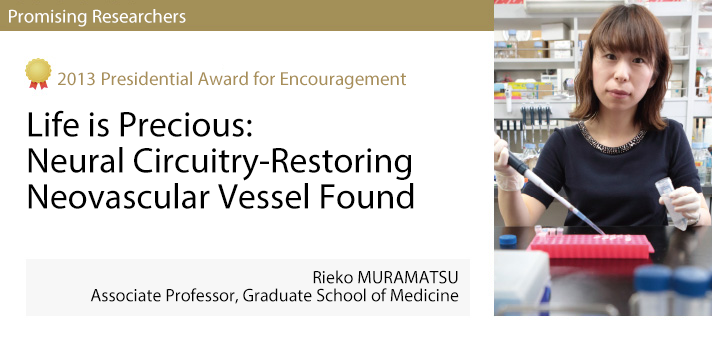 Rieko MURAMATSU, Associate Professor, Graduate School of Medicine
Even if the injured brain or bone marrow causes motor impairment, the central nervous tissue will be repaired in the body and the lost motor function will recover on its own to some extent. This fact had been known, but its repair mechanism had not been clarified. Associate Professor Rieko MURAMATSU has found that when neuronal circuits were repaired, a substance secreted from the newly-developed blood vessels in the surrounding area promoted circuit repair. This secretory substance is called prostacyclin. The existence of prostacyclin had been previously known, but it was not thought to be related to the formation of neurons. In 2013, she received the Presidential Awards for Encouragement for her achievement.
There blood vessels secret many kinds of substances. Assoc. Prof. Muramatsu thought one of three substances, including prostacyclin, promoted the recovery of neural circuits. And it turns out that prostacycline, which she tried first, happened to be the answer, which she called "a lot of luck." However, her discovery is seems promising as one to open possibilities of development of new drugs and therapeutic methods for helping recovery of functional disorder.
She is now juggling work and family. "It was only after I realized that I wanted to spend more time with my child that I began to be able to use my time effectively." The two of them do gardening together for a breath of fresh air. She said, "I'm overwhelmed with the strength of how life grows. The appearance of the floral stem, plants growing, my child getting taller, and axons extending -- they all make me happy." It's clear that her love for life makes her feel this way.
About Associate Professor Muramatsu
In 2008, Assoc. Prof. Rieko MURAMATSU graduated from the doctoral course at the Faculty of Pharmaceutical Sciences,The University of Tokyo and in the same year, she became a specially appointed assistant professor at the Molecular Research Center for Children's Mental Development, United Graduate School of Child Development, Osaka University.
In 2010 she became an assistant professor at the Graduate School of Medicine, Osaka University.
She took her current position as associate professor at the Graduate School of Medicine in 2014.
She holds her doctorate in Pharmaceutical Sciences. In 2013, her project was selected as a recipient of JST PRESTO (Sakigake) program from the Japan Science and Technology Agency.
In 2014 she was awarded the Young Scientist Award from the Minister of Education, Culture, Sports, Science and Technology.