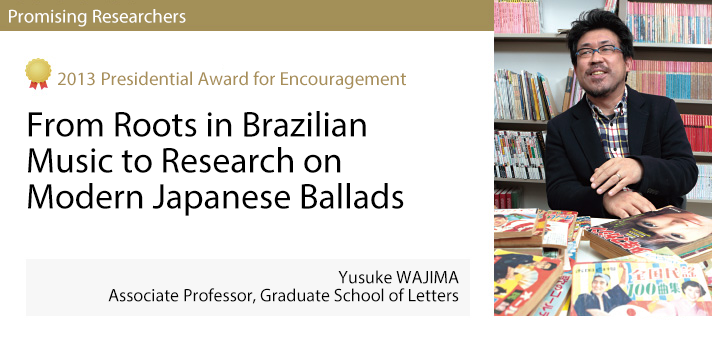 Yusuke WAJIMA, Associate Professor, Graduate School of Letters
It's the only musicology research department at a literature department at a Japanese university.
And here, Associate Professor Yusuke WAJIMA mainly discusses Japanese and Brazilian music from a cultural history viewpoint. For his research regarding modern popular music in Japan, particularly ballads known as enka , he has been awarded with the 2013 Presidential Award for Encouragement.
At first, Assoc. Prof. Wajima focused his efforts on Brazilian music, but once he began thinking about the position of non-Western music in Japan, he began to think more about Japan itself. "I can do a wide range of music research here. There are those here, like myself, who have taken many paths to wind up here, and there are those who have always had a sharp focus on their study of music, but we can all discuss topics on the same level. I'm so grateful to have such a varied and colorful environment in which to do research."
Assoc. Prof. Wajima lived in Kanazawa, Ishikawa, until he was 18 years old. It was there that he realized his love for western and Latin music at an import music store in town. He was in junior high and high school during a huge spike in the popularity of music bands in Japan; in fact, he was a bass player in his own rock band. After he entered the Faculty of Letters at The University of Tokyo, he joined the Waseda University Latin America Association, where he immersed himself in the Samba. He says that the reggae-infused samba that he came into contact with at the Salvador Carnival in Brazil shaped who he is today.
His plans for the future? "I'm going to continue with a wider approach, seeing what types of people create a certain type of music, how it changes and moves, the roles of the industry and media, as well as the connection with intellectuals and academic institutions."
About Associate Professor Wajima
Born in 1974, Associate Professor Yusuke WAJIMA graduated from the Faculty of Letters at The University of Tokyo. He received his doctorate in literature from the Graduate School of Humanities and Sociology at The University of Tokyo. His book, A Created Mythos: "The Heart of Japan" -- The History of Post-War Popular Music through "Enka" Ballads , which mainly centered around research he performed as a student, won him the IASPM Book Prize and the Suntory Prize for Social Sciences and Humanities in 2011. After working as an adjunct instructor in Tokyo, he began at his current position in 2011. He lives with his wife and 2 year old son.