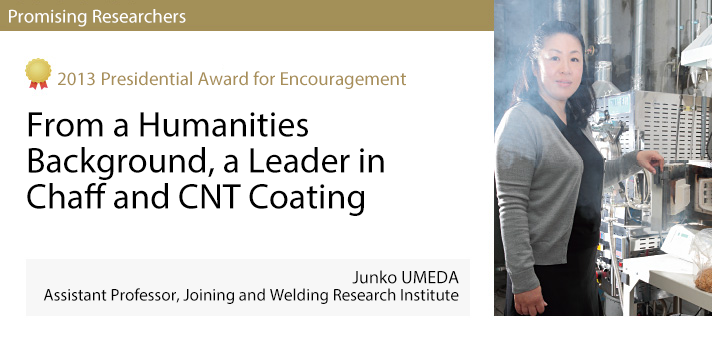 Junko UMEDA, Assistant Professor, Joining and Welding Research Institute
Amid the fragrance of roasted chaff and smoke, Assistant Professor Junko UMEDA says with a smile, "Would you believe I was a liberal arts student?" She studied social welfare as a student, but as fate would have it, she settled in as a researcher at the Joining and Welding Research Institute.
She won the 2013 Presidential Award for Encouragement for her innovative technology for coating carbon nanotubes. A study to extract energy and highly-pure silica from chaff put her into CNT research. Her efforts to make materials composed of CNT and magnesium by taking advantage of sorbability of porous silica has led to her current research. Currently, she is looking for new strong materials with less adhesion from ingredients of titanium and CNT.
"It's difficult to picture what phenomena is taking place. So I don't hesitate to ask even students if something isn't clear. So the people around me need even more patience than I do."
Assistant Professor Umeda always thinks of sharing her research results with society. A titanium alternative to iron shows promise for lightening and strengthening of products. "I want to continue to research chaff and lead it to improve the quality of life in farming communities of southeast Asia," she said, always keeping a social welfare perspective in mind.
The Presidential Awards for Encouragement were established for the purpose of recognizing faculty members who achieved outstanding performance in education and research and for the purpose of encouraging their future activities.