Dr. Takato Mitsudome, Associate Professor, Graduate School of Engineering Science
"Enriching our lives with innovative green chemistry - A thinking scientist's quest"
Dr. Takato Mitsudome is pursuing green chemistry by developing catalysts which enable manufacturing that conserves energy, is highly efficient, and reduces waste. His goal as a scientist is to contribute to fundamental solutions for environmental and energy issues in our society through the development of innovative catalysts.
Dr. Mitsudome has been focusing on catalysts using metallic particles on the nanometer (one-billion of a meter) scale. The nano unit is difficult to imagine because of just how small it really is. For instance, if the earth were reduced to one billionth of its original size, it would be about the size of a 1.27-cm marble. Metal particles of such a miniscule nanometer size exhibit properties different from those of ordinary metals. After experimenting with various materials, he noted that platinum and vanadium exhibited a small amount of catalytic activity and created nanoparticles with a diameter of approximately two nanometers by compositing these two metals. He used these nanoparticles as a catalyst for amide reduction to produce amines under mild conditions, which was a big challenge in aiming to achieve environmentally friendly and sustainable catalysis with the unique by-product of water through hydrogenation. This is also a response to one of the 12 key research areas that the Green Chemistry Institute Pharmaceutical Roundtable of American Chemistry Society set in 2005.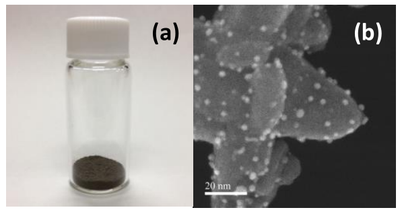 Figure. a) Platinum-vanadium bimetallic nanoparticle catalyst, b) Image of platinum-vanadium bimetallic nanoparticle catalyst (white dots are platinum-vanadium bimetallic nanoparticles) through scanning electron microscope
Dr. Mitsudome's breakthroughs continue. He then focused on optimization of nitrile hydrogenation. Nickel and cobalt have been widely used, but these rust easily and may ignite in the atmosphere. That is why the development of a catalyst that is not flammable, is easy to handle, and has higher activity has been longed for. Dr. Mitsudome's group has succeeded in developing a nano-cobalt phosphide catalyst with high efficiency, cost effectiveness, ease of use and reusability [2], which will inspire a new direction in the catalysis of synthetic processes, supporting sustainable practices that protect the environment. He has been making significant strides towards his goal as a scientist: to contribute to fundamental solutions for environmental and energy issues in our society through the development of innovative catalysts.
What is the secret to such consistent breakthroughs?
Dr. Mitsudome feels as though a fountain of ideas is constantly welling up inside of him and he makes it a point to put these ideas in words and discuss them with others. This is an inevitable cyclical process in which he acquires other new ideas. He believes that verbalization is the most critical action for scientists to articulate their ideas and occasionally brings with it some new, unexpected ideas.
His odyssey continues
While seeking quality and efficiency in catalysts, Dr. Mitsudome also searches for value that enriches people's minds and brings them fulfilment in their own lives beyond scientific results.
Why do I develop catalysts? What is "science"? What is "civilization"? What is "prosperity"? What is "innovation"? These are the questions Dr. Mitsudome constantly asks himself. He says, "Has the development of science really enriched people's minds? With the advance of science, what have we lost without noticing? I believe that we should stop and reflect on science and technology while placing an emphasis on true fulfilment of people. It is important not to take for granted what we are doing now. While it is painful to keep thinking about things that don't have answers, I think there's real meaning in having to face this fact." With a sense of discipline based on the concept of negative capability discovered by poet John Keats, Dr, Mitsudome will continue to reflect and put his thoughts into words during his journey of knowledge.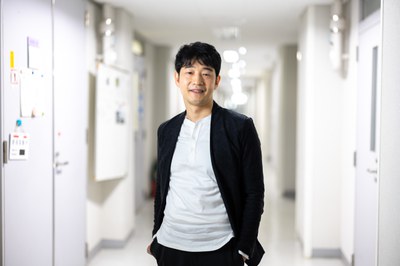 [1] Mitsudome. T. et al. (2017). Mild Hydrogenation of Amides to Amines over Platinum-Vanadium Bimetallic Catalyst. Angewandte Chemie International Edition. 56(32). 9381-9385. DOI:10.1002/anie.201704199
[2] Mitsudome, T. et al. (2020). A cobalt phosphide catalyst for hydrogenation of nitriles. Chemical Science. 11(26), 6682-6689. DOI: 10.1039/D0SC00247J