Professor Masateru Taniguchi, Department of Bio-Nanotechnology, The Institute of Scientific and Industrial Research
"Technology with staying power developing biotechnology that can be used for centuries to come"
Professor Masateru Taniguchi has been devoted to pioneering the development of a single-molecule sequencing method. His cutting-edge and unique technologies have been used for a variety of applications and have great potential for improving our lives and contributing to new discoveries.
White-hot passion for uncovering the secrets of life's blueprints
Working with scientists in other fields such as life science, Dr. Taniguchi succeeded in verifying the mechanism for third-generation DNA sequencing in 2012, a world first. In 2019, he successfully identified individual molecules in DNA based on differences in electrical conductance and directly detected anticancer drug molecules incorporated in DNA. All diseases have a genetic component, and Dr. Taniguchi's technology will contribute to not only understanding the genetic mechanisms behind these diseases, but also to the development of early diagnostic tests, new treatments, and interventions to prevent disease onset and minimize disease severity. In addition to reading DNA, his research team has recently developed a method for direct observation of a single neurotransmitter molecule and succeeded in obtaining the desired results .
Collaboration that extends beyond the barriers of discipline and sector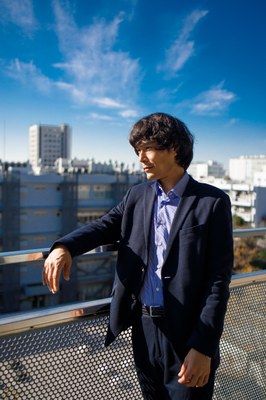 Cross-disciplinary collaboration serves as the driving force for Dr. Taniguchi in his research. His colleagues at the Institute of Scientific and Industrial Research have diverse scientific backgrounds and are open for collaboration both within the institution and with external organizations, which has promoted Dr. Taniguchi's research for wider applications. He also believes that it is the mission of researchers working at public institutions to share technologies with those who can make the best use of them in order to open up new avenues for the betterment of society. This motivation has led him to establish spin-off companies, such as Aipore and Quantum Biosystems . Aipore provides services which can detect viruses, microbes, or even their variants using nanopore sensors and AI technology. Its technology is also the product of extensive discussions between researchers and industry circles across various disciplines. Dr. Taniguchi and his research team recently succeeded in identifying coronavirus variants, including COVID-19, with this technology. Quantum Biosystems is pioneering the development of innovative sequencers based on quantum mechanics and now has a branch in Silicon Valley. He is now also working with economics experts to explore the economic potential of infection detection.
Making discoveries that will resonate for centuries to come
Not even the earth can contain his passion for uncovering the truth, making new discoveries and developing new technologies. He has embarked on more dynamic endeavours to detect evidence of life on Mars, collaborating with MIT and Harvard in the United States. Dr. Taniguchi's goal as a researcher is to produce scientific discoveries and technology that can be used by and help people for centuries to come, and he's well on his way to achieving that goal.