Dr. Tom Macpherson, Assistant Professor, Institute for Protein Research
"Tiny molecular tools serve a huge role in studying the underlying mechanisms of psychological phenomena"
Dr. Tom Macpherson is an assistant professor at the Institute for Protein Research. After obtaining a degree in psychology from the University of Sussex, he entered a graduate program in neuroscience at the same university, where he studied the roles of GABA receptors located within the reward system of the brain in the development of cocaine addiction using mouse models. Attracted to the quality of research in his field and wanting to expand his horizons, Dr. Macpherson came to Japan in 2014 as a postdoctoral fellow immediately after obtaining his Ph.D. He then joined Osaka University in 2018 as an assistant professor.
Using neuroscience techniques to answer questions in psychology
Having trained in the interdisciplinary fields of social and natural sciences, Dr. Macpherson combines various molecular biology tools and behavioral analysis techniques conducted on mouse models to answer questions and address issues in human psychology and psychiatry, such as learning, decision-making, mental disorders, and others. Together with his lab members, he strives to understand the neural circuits behind reward and aversive learning and how the dysfunction of such circuits may lead to psychiatric disorders such as schizophrenia, depression, and drug addiction. Such knowledge can be used to develop drugs and treatments for mental disorders and human-level artificial intelligence systems.
State-of-the-art research and collaboration go hand in hand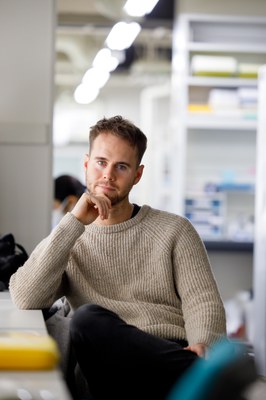 Dr. Macpherson feels th at the Japanese scientific community has a str ong spirit of c ollaboration in sharing experience and expertise. He enjoys an ope n research environment in which scientists from different fields are more than willing to collaborate with him and his lab members, as shown by the basic and translational collaborative research projects that his laboratory carries out with its academic and industrial partners. Being a part of the Institute for Protein Research has also opened up access to technologies and equipment not available in his previous position and allowed him to contribute to other scientists' research projects.
Diversity and globalization at OU
Upon coming to Osaka University, Dr. Macpherson was happy to see an increasing number of international students and researchers studying and working here. Nevertheless, he feels that there is still room for improvement in the administrative support for international staff members, such as in understanding employment contracts. He mentions that one of the things that may discourage scientists from moving to Japan is the language barrier, but with a stronger support system, top-quality international researchers will find it easier to bring their talents to Japan. He applauds the quality of research in Japan, the high quality of life, and the locals' friendliness. Despite Japan's image as an expensive country to live in, he feels that the cost of living comfortably here is comparable to other developed countries.   Living in an international area like Osaka has made it easy for him to make both local and international friends, which helps manage the homesickness he feels while living away from his family and friends in the UK. He also feels lucky to be a part of a diverse lab whose members speak a high level of English, work hard, and get along well with each other. His advice to those thinking of working in Japan is to first visit the lab and talk with the students to find out about the work environment and see whether it fits with their working style.