Dr. Jason Paul Miranda Cruz, Graduate School of Information Science and Technology
Dr. Jason Paul Miranda Cruz
Specially Appointed Assistant Professor
Department of Multimedia Engineering, Graduate School of Information Science and Technology

"Innovative information security expert brings research prowess from the Philippines to Japan"
1. Cross-Kansai Tour – Pursuing education and research at universities in Kansai
Dr. Cruz came to Japan from the Philippines in 2013 on a scholarship from the Ministry of Education, Culture, Sports, Science and Technology (MEXT). During his first 6 months in Japan, he entered a Japanese language course at Kyoto University, where he met his future wife in the very same class. Dr. Cruz has always been interested in learning about new developments in the fast-paced field of information science and engineering. Since he received his bachelor's and master's degrees in Electronics Engineering from the Ateneo de Manila University, it came naturally for him to enter the doctoral course at Nara Institute of Science and Technology (NAIST). After obtaining his Ph.D. from NAIST, Dr. Cruz started to conduct his research at Prof. Fujiwara's lab in Osaka University's Graduate School of Information Science and Technology from 2017.
2. Cyber Safeguard – Creating secure systems through cutting-edge R&D
Dr. Cruz specializes in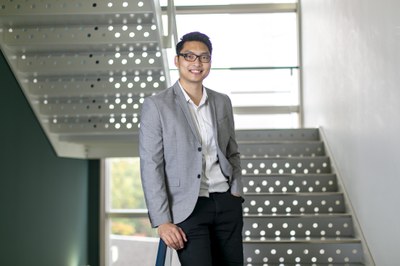 cryptography and information security. "As a SpeciallyAppointed Assistant Professor," he says, "I am tasked to research, develop, and design information security technologies and systems that would contribute to society. Some of our research projects include searchable encryption, privacy-preserving machine learning, and web security." In his research, Dr. Cruz mainly focuses on the use of blockchain technology as an infrastructure to create secure and innovative systems and to improve conventional systems. Dr. Cruz explains, "Blockchain is the backbone of revolutionary cryptocurrencies, such as Bitcoin and Ethereum, which are composed of cryptographic protocols that allow secure online transactions between users based on a peer-to-peer network." He continues, "In my previous research, I have applied blockchain technology to realize a trans-organizational role-based access control system and an e-voting system. I am currently investigating the application of blockchain technology in different fields, including the Internet-of-Things (IoT), healthcare, cloud storage, and management of digital rights."
3. No Cost Too Great – OU provides attractive research environment
Dr. Cruz says, "I just finished my first lecture at Osaka University in the first half of this school year." His primary objectives in the class were to introduce his research and teach English presentation and writing to the students in order to improve their overall English language ability. Dr. Cruz mentions, "Most of the students at OU are highly skilled, but sometimes they can get very quiet, which leads me to wonder if they actually do not understand my explanation or if they're simply quiet students."
Dr. Cruz has a generally positive opinion on the research environment at OU. "Here at OU, necessary equipment and resources for research are provided by the lab, whereas when I was a student in the Philippines, it was difficult to purchase equipment and resources due to financial reasons and complicated procedures." Dr. Cruz emphasizes that necessary expenses for participation in academic conferences are also paid for by the laboratory; thus, he can conduct research activities without worrying about costs, which he believes makes for a very attractive environment for young researchers like himself. Dr. Cruz says, "Because information security in my research field needs to keep up with the evolution of technology, it is important to obtain the latest information through research activities."
4. Living Locally and Growing Globally – Life at OU and the Globalization of Japan
Dr. Cruz explains that he has not experienced any major problems or inconveniences on campus or in his life in Osaka. "The professors and office staff in my lab are very helpful. I think OU is becoming more internationalized, and even though I am a foreign researcher, I truly enjoy my work here."
Dr. Cruz and his wife are currently living at the International House in Toyonaka.  Dr. Cruz says, "Now, I am able to have simple conversations in Japanese, so I have no problem at restaurants and shops. And thanks to new technology, I can find anything I need in order to live comfortably in a foreign country through services like Google Maps and Google Translate."