Ms. Mio Yamada, Owner of "KISEKI" in Rwanda
Ms. Mio Yamada
Owner of "KISEKI" in Rwanda
"Connecting the world by bike - Thinking about what is best for you right now"
Ms. Mio Yamada graduated from Osaka University of Foreign Studies (now the School of Foreign Studies, Osaka University) in 2006. Working for a magazine publisher, she was involved in setting up a restaurant within a temple in Tokyo. Afterwards, she established an organization called "Cog-way," which offers bike tours of Shikoku, one of the four main islands of Japan. She now lives in Rwanda and opened a Japanese restaurant in 2017 for the first time in the country.
Biking through the African continent
Ms. Yamada majored in African Studies, biking 20 km to university every day. She enjoyed every lecture, studying things like Swahili and African history, and she often spent entire days on campus just to continue attending classes. These lectures and studies broadened her perspectives, allowing her to meet lots of stimulating friends and professors.
She traveled to Tanzania together with her friends during the summer holiday in her first year at university. During the trip, however, she felt like just a tourist on a bus, with a tangible distance between her and the locals. So, she figured that she would have more opportunities to communicate with locals if she traveled by bicycle, a challenge she thought no other woman would attempt. She decided to leave for Africa during her third year at university after traveling through Japan to prepare herself. During her travels, as it was unsafe for women to travel alone, she pretended to be a man by shaving her head, covering her bust with a cloth, and sometimes even wearing a fake moustache. Although she caught malaria during her tour, she completed her 5,000 km bicycle tour across eight countries from Kenya to South Africa over the course of 6 months.
To Rwanda, the Miracle of Africa
After giving birth to her son in Kanagawa Prefecture, Ms. Yamada found herself unable to send him to daycare, so she developed a daycare system herself, utilizing local public facilities together with mothers and volunteers in the community.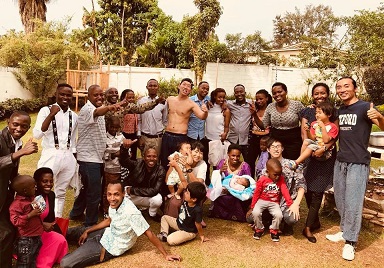 Later, her husband's work sent the family to Singapore, but once her husband decided to start his own business, the two chose to move the family once again. They had no hesitation in selecting Rwanda as their next destination. Regarded as the "miracle of Africa," Rwanda has achieved high degrees of economic growth and safety despite the genocide that took place in 1994. Ms. Yamada enjoys cooking and entertaining people, which led her to open the Japanese restaurant "KISEKI," which means "miracle" in Japanese, in 2017. The restaurant became popular for its authentic Japanese dishes incorporating seasonings imported from Japan. Her activities and network with local people continue to expand through social initiatives such as flea markets and live music at her restaurant, nursing, and teaching massage techniques to the blind. "I want to create another African miracle through food and services," she smiles.
Push your abilities to their limits
Ms. Yamada says, "Teachers in high school often advised me to live with goals in mind. However, I haven't always had a set goal for myself." She continues, "I constantly ask myself what I should do to make the most of my abilities and what the best decision I can make is." From traveling across Africa, to setting up a daycare system, to opening a Japanese restaurant, she always made the best decision for herself. She encourages students at OU, saying, "Once you make the best decision for you, take responsibility for it and push forward."