Mr. Naoyuki Yokotani, Toyota Motor Europe, NV/SA
Mr. Naoyuki Yokotani
Graduated from the Graduate School of Engineering (Materials and Manufacturing Science) in 2006.


Mr. Yokotani is a Technical Senior Manager at the R&D Powertrain Evaluation Department of Toyota Motor Europe NV/SA in Belgium. He leads a section that is responsible for the development of automobile engines.
Work Globally – Motivated to see the world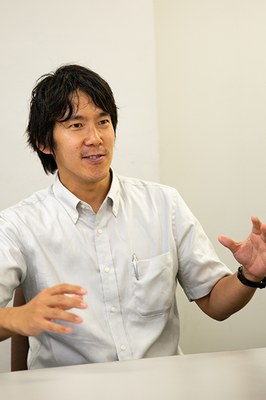 As a child, Mr. Yokotani had always been interested in experiencing life in other countries, and had the ambition to work overseas since he was a student.
When he was in high school, he had the opportunity to attend a seminar by an Osaka University student. "I was impressed with his talk and found Osaka University truly global, which prompted me to attend the university myself," said Mr. Yokotani.
Although he did not take the opportunity available for students to study abroad while at Osaka University, he made every possible effort on his own to achieve his vision. "I was learning English, collecting information by reading relevant materials, and making friends with international students. After entering Toyota, I continued to learn English as I was hoping to work at an overseas branch or affiliated company, and now, my dream has come true."
Life in Europe – Adopting other cultures and respecting differences
Mr. Yokotani has been in Belgium since 2016. "There is still somewhat of a language barrier as English is not a primary language in Belgium and everyone speaks with different accents. I am trying to be patient and clear when communicating with others as people in this country are assertive and will not start a task until they fully understand its objective." He continued, "However, I respect their work-life balance and their efforts to communicate with others. I certainly enjoy working here."
Shaping the Future – Working to make a difference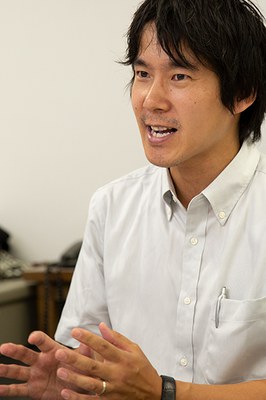 "Having achieved my first goal of working overseas, I now wish to work in different countries to use the experiences I've gained here in Belgium. I believe that knowing other cultures and experiencing different lifestyles can be an advantage when developing better products," said Mr. Yokotani, showing his professionalism as an established engineer who has a strong will to make a difference for the betterment of society. He truly exemplifies what it means to be an engineering graduate at Osaka University.
Interview & text: Saori Obayashi