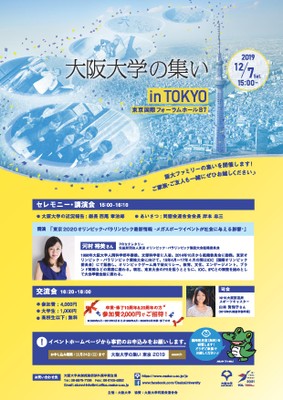 11th Osaka University Alumni Reunion in Tokyo (This year's lecture topic: The Tokyo Olympic and Paralympic Games!)
| | |
| --- | --- |
| | |
| | 2019.12.7 Sat 15:00 - 0:00 |

The Tokyo 2020 Olympic and Paralympic Games are just around the corner!
For this year's Osaka University Alumni Reunion in Tokyo, we've invited KAWAMURA Hiromi (1998 graduate, School of Human Sciences), who currently serves as PR Secretary in the Tokyo Organising Committee for the Olympic and Paralympic Games (TOCOG), to speak with us!
Don't hesitate to bring your family and friends as well!
[Lecturer] KAWAMURA Hiromi
PR Secretary, Tokyo Organising Committee for the Olympic and Paralympic Games (TOCOG)
A 1998 graduate of the School of Human Sciences at Osaka University, Ms. Kawamura completed the master's course of the School of Public Policy (now: School of International Public Affairs) at Columbia University.

After entering the Ministry of Education, Culture, Sports, Science and Technology (MEXT), she was involved in duties regarding the registration of World Heritage Sites (at the Agency for Cultural Affairs), the Education Ministers' Meetings (at the International Affairs Division of the Minister's Secretariat), and sporting events (at the Japan Sports Agency).

She started the study abroad promotion campaign "Tobitate! (Leap for Tomorrow) Study Abroad Initiative" and worked on the "Super Global High Schools," a program to develop global leaders, from its planning stage.

Ms. Kawamura joined TOCOG in October 2014. From April 2015~April 2017, she prepared for the Tokyo Olympic and Paralympic Games by engaging in work related to the torch relay, education, culture, engagement, and brand strategy at the Olympic Games Bureau of the International Olympic Committee (IOC). She is currently preparing for the Games as a PR officer and coordinator with the IOC and IPC.
[MC] YAMAMOTO Kahoko
Born in Fukuoka and raised in Osaka, Ms. Yamamoto graduated from the Mongolian Language Department in the School of Foreign Studies at Osaka University in 2015. While at OU, she was a member of the Spanish Dance Club AL COMPAS, and took a year off during her 3rd year to study French in France.

After graduation, Ms. Yamamoto began work as a freelance announcer, working for 2 years at NHK Takamatsu from April 2015 as a caster for "Hirumae Kagawa" and a reporter for "Yu 6 Kagawa." She joined NHK Osaka in April 2017, and now serves as the sports caster for "News Hot Kansai."
How to Apply
| | |
| --- | --- |
| *Applications are no longer being accepted. Those who wish to attend can apply at the door on the day of the event. | |
To alumni celebrating 10 years and those celebrating 20 years since their graduation
Those individuals who will be celebrating 10 years since their graduation (those who graduated between April 2009 and March 2010) and 20 years since their graduation (those who graduated between April 1999 and March 2000) are cordially invited to attend the social gathering following this alumni reunion at half price (2000 yen). We encourage you to invite your classmates and relive the memories of your university days.
In order to receive information about the university as well as upcoming events, we ask that you update your contact information by clicking here .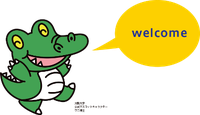 Date and Time
Saturday, December 7, 2019 – 15:00~18:00 (Doors open at 14:30)
Venue
Hall B7, Tokyo International Forum (3-5-1 Marunouchi, Chiyoda-ku, Tokyo)
Program
• 15:00~16:10 Ceremony/Lecture
• Campus updates - Osaka University President NISHIO Shojiro
• Greeting - Osaka University Federation of Alumni Associations President - KISHIMOTO Tadamitsu
• Lecture – "Latest News on the Tokyo 2020 Olympic/Paralympic Games: Mega Sporting Events and their Effects on Society" – KAWAMURA Hiromi
• 16:20~18:00 Social Gathering
*Cost of entry: 4,000 yen
Alumni celebrating their 10th graduation anniversary (graduated between April 2009 and March 2010): 2,000 yen
University students: 1,000 yen
High school students and younger: free
There will also be a performance by the Osaka University Cheerleading Party! (For more information on the Osaka University Cheerleading Party, click here.)
*Click here for a look at last year's Alumni Reunion in Tokyo (December 2018)
Intended for
Osaka University-related persons including graduates from Osaka University and Osaka University of Foreign Studies, current students, faculty, and staff at Osaka University
Capacity for this event is 500 individuals, and registration is necessary. Individuals attending may be accompanied by guests.
*We ask that individuals with special needs please consult with staff prior to the event.
*We will also have childcare services available for children aged 3 months to 6th grade elementary school students, so please feel free to bring your families. If you wish to apply for childcare services, please fill out the appropriate fields on your application form.)
Note: We may stop accepting applications prior to the deadline if capacity has been reached.
A request regarding up-to-date contact information
In order to receive information about the university and upcoming events, as well as give valuable feedback about the university, we ask that you update your contact information.
>> Contact information update form
In cooperation with
Osaka University Federation of Alumni Associations
For more information, please contact
Alumni Section, Liaison Office for Osaka University Funds, Osaka University
Tel:06-6879-7196
Email:alumni-info[at]ml.office.osaka-u.ac.jp
(Please replace [at] with @ when contacting this address.)