Vice President Meetings for Osaka University Partner Summit
Osaka University Partner Summit, an international symposium to celebrate the 90 th anniversary of Osaka University and 100th anniversary of Osaka University of Foreign Studies, is scheduled for April 30, 2021.
Under the theme of The Role of Universities in Facing Societal Challenges and Recovering from COVID-19 , the symposium will explore ways in which higher education institutions work together toward solutions for COVID-19 and other societal issues. It will also highlight joint research outcomes and future plans, as well as feature Student Voices, a collaborative project among students of partner institutions.
Through the discussion, the symposium aims to establish a joint statement based on a roadmap toward the 2025 World Exposition in Osaka, Kansai.
Participating partner universities are: Mahidol University (Thailand), Shanghai Jiao Tong University (China), the University of British Columbia (Canada), University College London (UK), University of California, Davis (USA), and University of Groningen (the Netherlands).
From November 25 to December 3, Executive Vice President KAWAHARA Genta had individual online meetings with vice presidents and other officials of the participating universities to share the framework of the symposium and initiate the dialog among university leaders.
The symposium will be co-created with feedback from each university, followed by further dialog among university presidents.

Mahidol University

Shanghai Jiao Tong University

t he University of British Columbia

University College London

University of California, Davis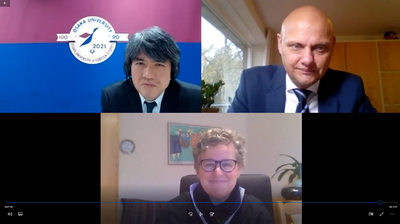 University of Groningen