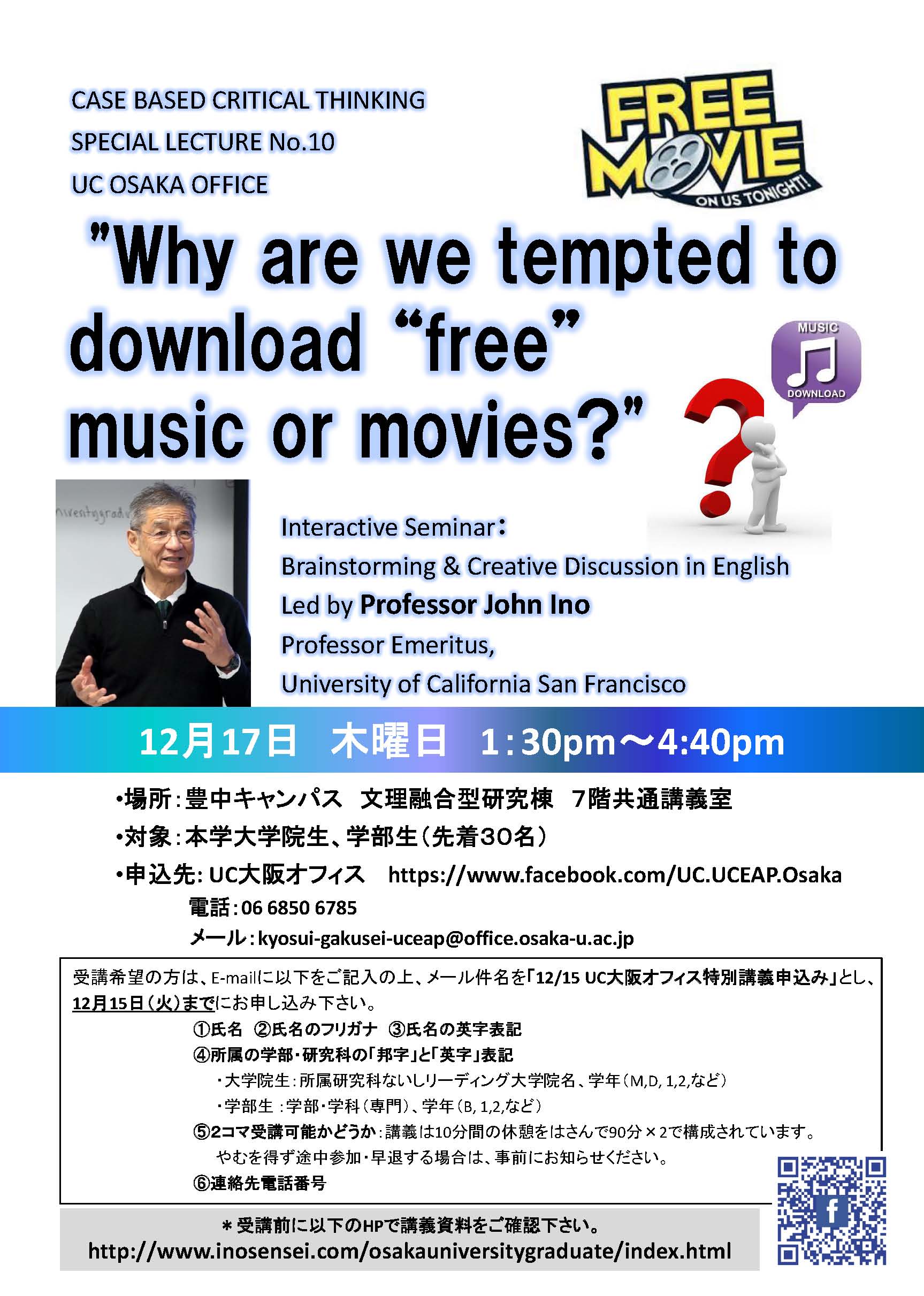 UC Osaka Office Lecture Series -- Case Based Critical Thinking No. 10
The UC/UCEAP Osaka Office will be holding its tenth lecture in this special lecture series "Case Based Critical Thinking." The lecturer for this series is Dr. John Hampton Ino (Specially Appointed Professor, Office for Academic Exchange with the University of California; Professor Emeritus, University of California, San Francisco; former Director, UC Tokyo Study Center).
This special English lecture series is being conducted in an interactive seminar-style, based on group discussions about familiar topics. Participants consider things from multiple viewpoints, critically and pleasantly, through stakeholder analysis in order to develop logical thinking ability and communication skills.
Any student from OU may attend. Faculty members wishing to observe the lecture are also welcome. You may attend this lecture even if you have not attended a lecture in this series before, so we hope to see some new faces as well! We only have room for 30 attendees, so make sure you register soon to guarantee your spot!
Case Based Critical Thinking (video)
Date and Time
Thursday, December 17, 2015 - 13:30~16:40 (We will have a brief intermission from 15:00~15:10)
Venue
Lecture Room, 7F, Interdisciplinary Research Building, Toyonaka Campus
Lecture Overview
This lecture will challenge the students' critical thinking skills. Students will be given case studies from new disruptive technologies. They will analyze the issue and answer the general question, "What should I do?"
The general "tools" they will use for analysis are:1) stakeholder identification, 2) brainstorming rules
The personal dilemmas they will struggle with are:
1) Where should I stop on this "slippery slope"?
2) What is influencing my actions: feeling (emotion) or thinking (intellect)?
This month's topic: "Why are we tempted to download FREE music or movies?"
Here are some critical thinking questions.
-Why are some critical thinking questions.
-Is "just a little dishonesty" ok? For example, taking extra napkin from Starbucks for another purpose.
Advance materials are available here . You can check some articles and videos for this lecture before attending.
How to Apply
Please send an email entitled "Attending 12/17 UC Osaka Office Special Lecture" to kyosui-gakusei-uceap@office.osaka-u.ac.jp by Tuesday, December 15, 2015. Include your (1) name with furigana and Roman letters, (2) affiliation with alphanumeric code and year in school (ex. M1, D2), (3) telephone number, and (4) whether you can attend both sessions in the body of your email. If you plan on attending the lecture for just the second half, or if you must leave early, please make sure to inform us beforehand.
Contact
NAKAYAMA, UC Osaka Office
Tel: 06-6850-6785
Email: kyosui-gakusei-uceap@office.osaka-u.ac.jp
URL: http://www.inosensei.com/osakauniversitygraduate/index.html
For more information on this special lecture, please click here .
UC/UCEAP Osaka Office's Facebook page