2. Historical landmark & important cultural asset--Tekijuku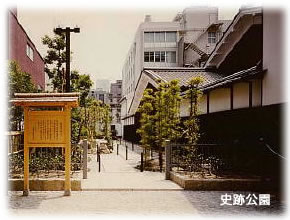 Tekijuku was designated as an Osaka Prefectural Historical Landmark in 1940, as a National Historical Landmark in the following year, and as an Important Cultural Asset in 1964. The Ogata family donated the building to the nation (to Osaka Imperial University) in 1942.
Tekijuku, located in a town house in Senba, Osaka, from the late Edo Period, provides us with a precious glimpse of that era. For five years beginning in 1976, Tekijuku underwent renovation, but has been open to the public since.
Adress:

3-3-8 Kitahama, Chuo-ku, Osaka

Tel:

06-6231-1970

Hours:

10:00 a.m. ~ 4:00 p.m.

Closed:

• Mondays (however, open if the Monday is a national holiday)
• On the day following a national holiday (however, open if that day is Saturday, Sunday, or a national holiday.)
• During the Year-End and New Year's holidays (Dec. 28 – Jan. 4)

Admission fees:

• Adults: ¥270 (¥140)
• University and HS students: ¥140 (¥80)
• MS students and younger: Free

●Osaka University students (Must present their student ID cards.)

●Visitors (and one accompanying person) with a Physical Disability Certificate, Intellectual Disability Certificate, Rehabilitation Certificate, Mental Disability Certificate or Atomic Bomb Survivor's Certificate

●Members of the Tekijuku Commemoration Association

The fees in parentheses are the per capita fees for a group of 20 or more. However, persons planning on bringing a group are requested to apply in advance.




Special regulations:

• MS and younger students must be accompanied by a parent or chaperone.
• No beverages or food may be consumed in Tekijuku.
• Shoes must be removed before entering Tekijuku.
• Do not touch the displays, panels, or the items in displays.
• No loud talking or rowdy behavior.
• Stairways inside Tekijuku are steep; please be careful when going up or down.
• Some of the ceilings are low; please be careful not to hit your head.

Access:

Keihan Railway & Subway: Get off at Yodoyabashi or Kitahama Station.
Osaka City Bus: Get off at Yodoyabashi.
Click here to view a map of the neighborhood.