5. People associated with Tekijuku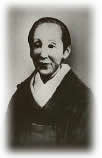 Regarding Tekijuku, we should not forget OGATA Koan's wife Yae. Born into the family of a Doctor Okugawa of Najio in the northern part of Nishinomiya City, Hyogo Prefecture, Yae married Koan when he opened Tekijuku at the age of 28. She was 16. In addition to raising thirteen children (four of whom died young), Yae was a key person behind Tekijuku, supporting Koan, and beloved like a mother to many of his students. She passed away in 1887.
The Okugawa family has donated a great amount of materials concerning Yae to the Tekijuku Memorial Association. This large quantity of materials is now being organized. After things have been organized, materials will be displayed at Tekijuku honoring her meritorious service.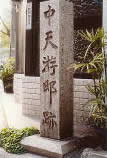 OGATA Koan first became acquainted with Western learning from NAKA Tenyu, a doctor and physicist who had opened Shishisaijuku in Tomoe in Nishi-ku, Osaka. Koan took his first steps in becoming a doctor there. Tenyu was highly regarded as a physicist, astronomer, and medical doctor.