History of Osaka University
History of Osaka University
Although officially founded in 1931 as Japan's 6th imperial university, you may be interested to learn that Osaka University's roots reach back to 1838 and Tekijuku, a private "place of learning" founded by OGATA Koan. As the author SHIBA Ryotaro wrote at the beginning of his historical novel Kashin, Tekijuku, a private "place of learning" in Semba, Osaka, for Western medicine was the predecessor of Osaka University. Thanks to Tekijuku, the passion for scholarship of Osaka citizens and the spirit of "For people, for society, and for benevolence," were passed on to Osaka University.
Osaka University celebrated its 80th anniversary in 2011. 2013 marked the 175th anniversary of the founding of Tekijuku.
Let's take a look at Osaka University's 175-year-old history.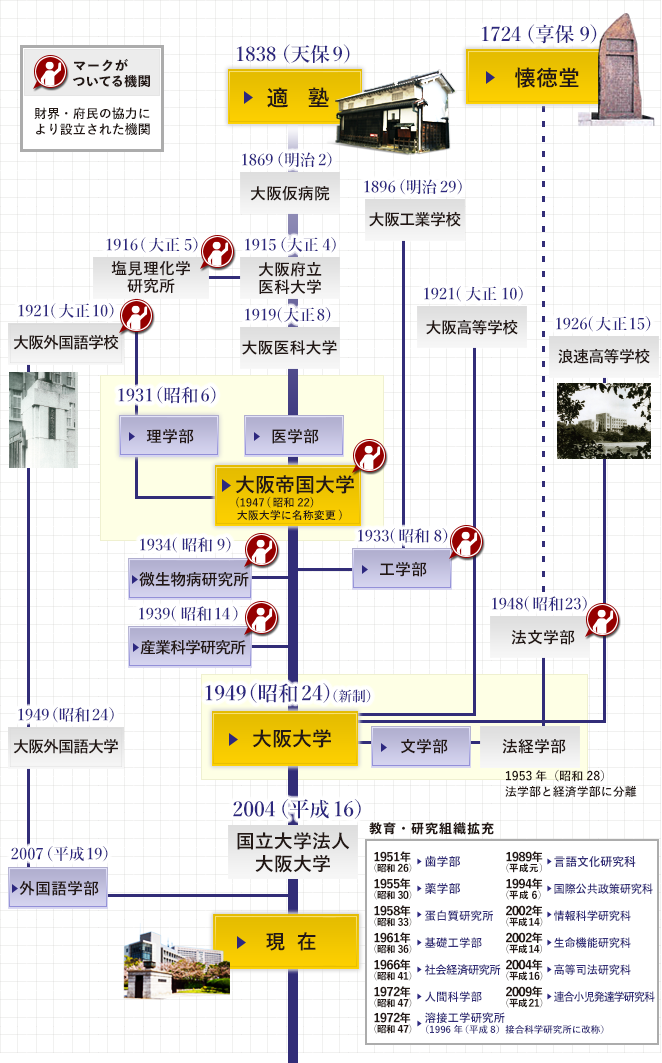 Expansion of educational and research organizations at the university
1951 School of Dentistry
1955 School of Pharmaceutical Sciences
1958 Institute for Protein Research
1961 School of Engineering Science
1966 Institute of Social and Economic Research
1972 School of Human Sciences
1972 Welding Research Institute (changed its name to Joining and Welding Research Institute in 1996)
1989 Graduate School of Language and Culture
1994 Osaka School of International Public Policy
2002 Graduate School of Information Science and Technology
2002 Graduate School of Frontier Biosciences
2004 Osaka University Law School
2009 United Graduate School of Child Development
1838 Tekijuku
The founding of Tekijuku and what would eventually become Osaka University
While Osaka University was founded in 1931, its origins reach back to Tekijuku, a private place of learning founded by OGATA Koan.
OGATA Koan was a competent scholar of Western medicine which he had studied in Edo and Nagasaki. Although he hailed from Ashimori-han, Bicchu (currently Ashimori, Kita-ku, Okayama), in 1838 he came to Kawara-machi, Osaka, and built a private school and clinic called Tekijuku.
Seven years later, he moved Tekijuku to Kasho-machi (currently, 3 Kitahama, Chuo-ku, Osaka) where much of the original school building still remains. For the next 24 years, Tekijuku was a center for vaccination research and cholera treatment. Koan established "Jotokan" in 1846, which became the first smallpox vaccination institution recognized by the Edo government in 1858.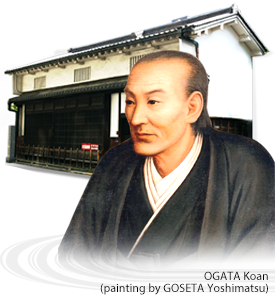 Among the some 1,000 students who studied at Tekijuku were FUKUZAWA Yukichi, OMURA Masujiro, NAGAYO Sensai, OTORI Keisuke, SANO Tsunetami, and HASHIMOTO Sanai. Tekijuku nurtured graduates who blazed paths in the early Meiji period for a modern Japan.
With the help of Koan's second son Koreyoshi, Koan's students, and the Dutch doctor Anthonius Franciscus Bauduin, in 1869, the Meiji government, established Osaka Temporary Hospital and Osaka Medical School. Later, in 1915, Osaka Medical School was renamed Osaka Prefectural Medical School.
1931 The birth of Osaka Imperial University, the 6th imperial university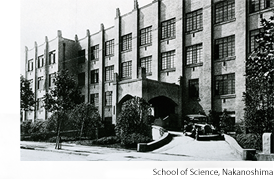 In 1931, Osaka Prefectural Medical School officially became Osaka Imperial University with two schools -- the School of Medicine and the School of Science. 
In accordance with national policies of that time, several imperial universities were established throughout Japan as the nation's highest education and research institutes. Thanks to enthusiastic activities by Osaka Prefectural Medical School President KUSUMOTO Chozaburo (2nd President of Osaka Imperial University) and the then Osaka governor SHIBATA Zenzaburo coupled with the support of many citizens, the calls to build a comprehensive university in Osaka (which was larger than Tokyo), were finally answered in 1931. Behind the birth of Osaka Imperial University, one must also credit the efforts by NISHIO Ikuji, the administrative official of Osaka Medical School. Thus, the imperial university that citizens in Osaka had longed for was finally established. In this way, Osaka Imperial University came into being through the efforts of citizens.
The imperial university's first president was a well-known physicist, NAGAOKA Hantaro. Looking back at that time, he said, "I made every possible effort to gather outstanding faculty members in order to make Osaka University the best university in Japan. I worked on fostering the momentum toward building a university focusing on research, especially research into industrial science." He also stressed his motto "Do not imitate others. Do things your own way."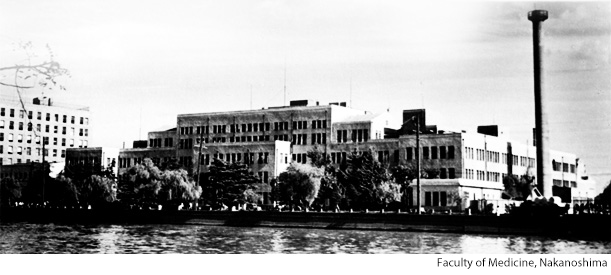 Osaka Technical School
Osaka Technical School, the second leading state industrial school after Tokyo Technical School, had been established in Tamae-cho, Kita-ku in 1896. (Persons familiar with woodblock printings and illustrations of famous spots in the Edo Period might find it interesting to note that there was a "tako-no-matsu" [octopus pine tree] situated near Osaka Technical School.)
In 1929, both Osaka Technical School and Tokyo Industrial High School were designated as colleges. Osaka Technical School became a state industrial college, Osaka Industrial School. In 1933, Osaka Technical School became the university's School of Engineering. Thus, Osaka Imperial University made a fresh start in 1933 with schools of medicine, science, and engineering. The School of Engineering was made up of seven departments of mechanical engineering, applied chemistry, zymurgy, metallurgy, shipbuilding, electric engineering, and applied science which, together, offered 26 courses
Later the Research Institute for Microbial Diseases and the Institute of Scientific and Industrial Research were established thanks to generous grants from private donors. As the School of Engineering, the former Osaka Technical School made a great contribution to the development of Osaka which flourished as an industrial city and was nicknamed "Manchester of the Orient." Osaka Technical School had a department of brewage, the only one in Japan. Children from sake and soy sauce brewers studied there, contributing to the modernization of brewing in Japan.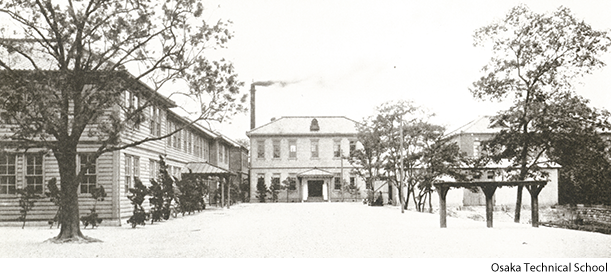 1949 Osaka University

Osaka Senior High School and Naniwa High School
Osaka Senior High School was established in Tennoji, Osaka in 1921 as a state high school under the old school system for the purpose of nurturing personnel in the aftermath of WWI.
The school's course term was 3 years. At that time, there were only two schools in Japan offering French in one of the science courses: Tokyo Senior High School and Osaka Senior High School. Osaka Medical School Preparatory Course was dissolved to establish an Osaka Prefectural senior high school under the old school system. As a result, Naniwa High School was established in Toyonaka, Osaka in 1926 and its course term was 7 years including 4 years in elementary school.
Osaka Senior High School and Naniwa High School were abolished in 1950 and integrated into Osaka University under the new school system, developing into two separate schools: the Faculty of Liberal Arts South and the Faculty of Liberal Arts North.
Kaitokudo
Kaitokudo was established as a place of learning in 1724 for merchants in Amagasaki-cho in Osaka (currently Imabashi, Chuo-ku). Kaitokudo was a place of learning for many citizens, both young and old. Thanks to a wide variety of lessons such as Han [Chinese] learning, Japanese studies, prose and poetry, as well as to its less rigid environment that allowed students to be absent for reasons such as business, Kaitokudo prospered for some 150 years as a center of learning in western Japan. The appeal of Kaitokudo rested in being a place of learning where anyone, both employers and employees, could study advanced scholarship. Unfortunately, during WWII, Kaitokudo was destroyed.
Following the war and the addition of the School of Law and Letters to Osaka University, the surviving collections of historical books possessed by Kaitokudo were passed on to Osaka University. These book collections are symbolic of much that Osaka University inherited from Osaka City.
Osaka University under a new school system
After WWII, Osaka Senior High School and Naniwa Senior High School merged, and in 1949, Osaka University was reborn with five schools -- the School of Letters, the School of Law and Economics, the School of Science, the School of Medicine, and the School of Engineering. Shortly thereafter, collections of historical books possessed by Kaitokudo were donated to the School of Letters by the Kaitokudo Memorial Association. Thus, as the 1950's dawned, today's liberal arts schools at Osaka University can be seen taking shape.
2007 Integration of Osaka University and Osaka University of Foreign Studies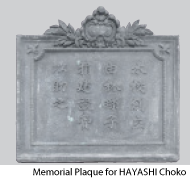 Osaka University and Osaka University of Foreign Studies were integrated on October 1, 2007. Osaka University of Foreign Studies, established as Osaka School of Foreign Languages in 1921 at Uehonmachi, Osaka, had developed remarkably as a leading school of foreign languages and research in western Japan. It produced outstanding graduates, including SHIBA Ryotaro. The university was originally founded thanks to a donation of one million yen by HAYASHI Choko, an Osaka business woman. She donated the money to the national government, insisting that Osaka needed to build a school to develop internationally-minded people. In this way, the two universities that form the present Osaka University share a history of being created due to the efforts of private citizens in Osaka. The integration of these two universities gave birth to the current Osaka University, a leading Japanese national university with three campuses in the Hokusetsu region of the Kansai.
Today Research-oriented comprehensive university
With the spirit it has inherited, Osaka University established unique undergraduate schools, graduate schools, and research centers. Today, Osaka University has four campuses: Suita, Toyonaka, Minoh, and Nakanoshima. Furthermore, the university boasts 11 undergraduate schools, 15 graduate schools, and 23 centers and institutes for research. It is clearly one of Japan's outstanding comprehensive universities. Thanks to its open spirit as well as its eagerness to meet the needs of the times, Osaka University has established pioneering schools, graduate schools, and research institutes in both the sciences and liberal arts.
The following slogans and their spirit have been handed down to today's Osaka University. First president NAGAOKA Hantaro's: "Do not lick the sake lees." [Do not imitate others. Forge your own path.] At the founding of the School of Engineering Science, 6th President SHODA Kenjiro's: "Create genuine culture by fusing science with art." 11th President YAMAMURA Yuichi's: "Live Locally, Grow Globally."
A spirit inherited from the Edo period. The essence of learning. What is the "true essence of knowledge" at Osaka University?
What is the philosophy passed down from OGATA Koan's Tekijuku and Osaka's cultural landmark Kaitokudo, the origins of Osaka University? And what about Osaka University's "true essence of knowledge"? Discover clues to these questions and more by exploring from the top page: