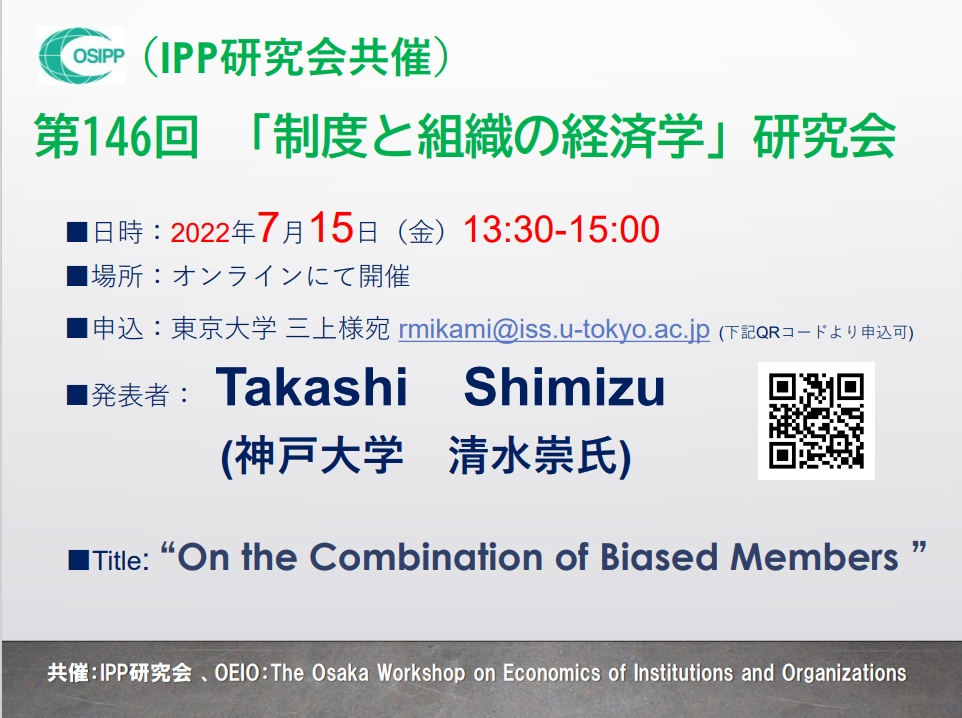 Pre-book only
Online events
The 146th meeting jointly organized with International Public Policy Seminar
2022.7.15 Fri 13:30 - 15:00

Send an email to: rmikami@iss.u-tokyo.ac.jp

MIKAMI, Institute of Social Science, The University of Tokyo

03-5841-4936
The Osaka Workshop on Economics of Institutions and Organizations, OEIO, meets every month to exchange research ideas on institutional and organizational economics.  Participants include both people specialized in theoretical research and those in empirical research.  Topics of meetings might be about microeconomic theory, macroeconomic theory, or economic history..., whatever on institutional and organizational economics.
Date
Friday, July 15, 2022 13:30 to 15:00
Place
Presenter
Takashi Shimizu, Graduate School of Economics, Kobe University
Title
"On the Combination of Biased Members"
Abstract
We consider the information transmission problem within organization, and especially we focus on how to combine biased subordinates to elicit truthful information from them. We assume that the directions of subordinates' biases are common knowledge, but not their sizes. This leads to the results that homogeneous combination of subordinates are better than heterogeneous one. This is because in the case of homogeneous subordinates, the effect of one's false report might be accelerated by another false report and this anxiety reduces an incentive for subordinates to send a false report.