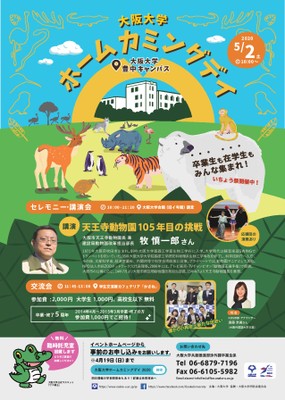 Osaka University Homecoming Day 2020 (scheduled for May 2, 2020) has been cancelled
| | |
| --- | --- |
| | |
| | 2020.5.2 Sat 10:00 - 0:00 |
[Important] Regarding the cancellation of Osaka University Homecoming Day 2020 in light of the effects of the novel coronavirus (posted March 17, 2020)
In response to the novel coronavirus, Osaka University has made the unfortunate decision to cancel Osaka University Homecoming Day 2020 in order to prioritize the health and safety of those individuals who had planned to attend.
The university sends its deepest apologies to related individuals and those who had planned to attend the event.
We humbly ask for your understanding regarding this decision.
Reunions by schools/department
*Note: Depending on the situation regarding the novel coronavirus, school/department alumni reunions may be postponed or cancelled. For more details, please contact the respective alumni association.
• The Alumni Association of the Department of Economics Homecoming Day
• School of Science Alumni Association Lecture
• School of Science (Biology) Alumni Association (Directors' Meeting, General Meeting, Social Gathering)
Request regarding updating contact information
In order to deliver news about services and events aimed at alumni as well as receive valuable feedback for improving education at the university, we ask for your cooperation in updating your contact information.
Form for updating contact information
Contact
Alumni Section, Public Affairs Division, Department of Co-Creation Promotion, Osaka University
Tel: 06-6879-7196
Email: alumni-info[at]ml.office.osaka-u.ac.jp
(Please replace [at] with @ when contacting this address.)