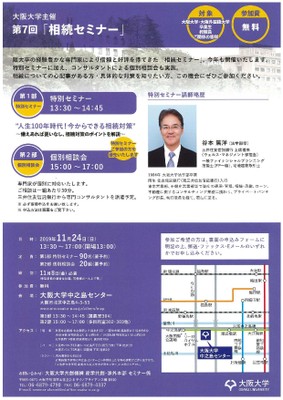 The 7th Inheritance Seminar
| | |
| --- | --- |
| | |
| | 2019.11.24 Sun 13:30 - 0:00 |
Due to positive feedback, we will be holding the 7th Inheritance Seminar.
In this 7th Inheritance Seminar, there will be a special lecture held by an inheritance expert and OU graduate, as well as individual consulting sessions, where we'll hear from several inheritance specialists.
Those with questions or worries about inheritance are welcome to take part in this seminar.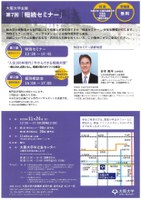 The flyer for this event can be found here .
Time and Date

Sunday, November 24, 2019 - 13:30 ~ 17:00 (Doors open at 13:00)
Venue
Part 1: Lecture Room 304, Nakanoshima Center, Osaka University
Part 2: Lecture Rooms 302/303 (and others), Nakanoshima Center, Osaka University
Program
• Part 1: Special Seminar - 13:30 ~ 14:45
Lecturer: TANIMOTO Atsuhiro (Graduate, School of Law; Executive Officer, Sumitomo Mitsui Banking Corporation)
Topic: "An Age of 100-Year-Long Lives! Inheritance Strategy that You Can Do Right Now -- Providing is Preventing: Analyzing Inheritance Strategy Details"
• Part 2: Individual Consulting Sessions - 15:00 ~ 17:00
Consultants: Inheritance specialists from Sumitomo Mitsui Trust Bank
Each group will be allowing a consultation time of 30 minutes.
*We ask that you make a reservation beforehand on your application form.

Intended for
Osaka University/Osaka University of Foreign Studies alumni, faculty, staff, and related individuals
How to Apply
Applicants may attend free of charge.
Fill out the required sections in the "Application Form" found below and send the completed form by post, fax or email. One person per applicant may attend as an accompanying guest.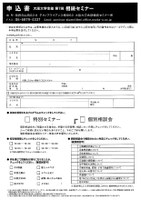 Deadline: Applications must arrive on or before Friday, November 8, 2019.

*Capacity:
Part 1: 90 individuals
Part 2: 20 individuals
(If the number of applicants exceeds the capacity numbers, we will select successful applicants by lottery for Part 1. Those attendees in Part 1 will be shown preference for attending the consulting sessions in Part 2.)
Applications/Inquiries
Seminar Division, Office for Industry-University Co-creation and University Advancement, Co-Creation Bureau, Osaka University
B910, Techno-Alliance Building, Yamadaoka 2-8, Suita, Osaka, 565-0871
TEL: 06-6879-4790     FAX: 06-6879-4337
E-mail: seminar-alumni[at]ml.office.osaka-u.ac.jp
(Please replace [at] with @ when contacting this address.)