Preventing the Misuse of Competitive Research Funds
Osaka University is committed to severly punishing misuse of public research funds, making every effort to create environments that will never permit misuse of public research funds.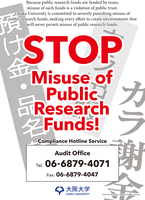 Download the poster (shown above) (png format)
For more information, contact :
Office for the Proper Usage of Research Grants
Tel : 06-6879-4340
Fax : 06-6879-4074
Email : huseishiyoboshi@office.
When using the email address, please add "osaka-u.ac.jp" after "office".