Machikaneyama Facility
Regarding outage of the Residence Reservation System (RRS)
The RRS has been experiencing issues since December 1, 2020, and is currently unavailable. We are currently investigating these issues and additional information regarding resumption of service will be posted to the Osaka University official homepage when available. We apologize for any inconvenience this has caused and we humbly ask for your patience and understanding regarding this matter. Reservations and other emergencies should be directed to the email address listed below. Thank you for your cooperation.
Facilities Management, Housing Division, Osaka University
The RRS is currently unavailable. Reservations and inquiries should be directed to the Facilities Management of the Housing Division by email.
Please note that we will also not be able to accept reservations or answer inquiries from Wednesday, December 29, 2021 through Monday, January 3, 2022.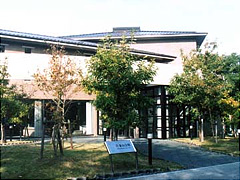 Address: 1-15 Machikaneyama-cho, Toyonaka
Facilities, capacity, and floor plans
| | | | |
| --- | --- | --- | --- |
| Rooms | Floor | Capacity | Furnishing |
| Libre, a restaurant | 1 | 102 | |
| Special room | 1 | 14 | TV, video, white board, 80-inch Portable Floor Pull Up Projection Screen, wireless internet access |
| Conference room can be split into two rooms with a collapsible wall. | 2 | 48 | Electric screen, white board, microphone, wireless LAN, projector |
| Accommodation -- 2 twin rooms, 5 single rooms | 2 | 9 | TV, desk, desk light, refrigerator, bath, electric pot, dryer, alarm clock, bath towel, drinking glass, tea cup, wireless internet access |
| Service corner | 2 | | Washing machine, dryer |
| Lounge | 1 | 25 | |
Layout of the facility
Restaurant
Mon. through Fri. (excluding national holidays), 11:00 a.m. ~ 2:00 p.m.
Note: Business hours and days vary in the summer and during the Year End and New Year holidays.
Menu: Set meals including pork cutlet, curry and rice, and other simple dishes.
For reservations, contact: Osaka University, Machikaneyama Hall
Tel: 06-6850-6133 (extensions: Toyonaka 2001 & 2002)
Special room and/or conference room
10:00 a.m. - 8:00 p.m., Monday through Saturday
* These rooms are not available on Sundays and national holidays. These rooms are not available for academic meetings from outside the university.
Accommodations
Excepting Dec. 29 ~ Jan. 3 and specified non-business days, the facility is available all year round.
Procedures for using facilities in this building (Conference Room/Accommodations)
Confirm the availability of the room and (if available) make a reservation. (Applications may be made here.) Then, if the reservation includes staying overnight in a room(s), pay the necessary fee by bank transfer. Reservations can be made only by OU faculty and staff members. In principle, the maximum length of stay is 30 nights.
Fees
There is no charge for using the conference room or special room.
Accommodation fees --per night-- are as follows:
Single room -- ¥3,500 per night (including a laundry fee)
Twin room -- ¥5,500 per night (including a laundry fee)
Payment/Cancellation Fees
Payment should be made via transfer to a designated university account. (Transfer fees must also be paid at the guest's expense.)
Those who want their fees to be covered by subsidies for operating expenses or grants-in-aid for research for Osaka University are requested to contact their host school or research institute.
Details on the cancellation policy for the Machikaneyama Facility can be found here
Contact
Housing Division -- Tel: 06-6879-4948 (On-campus internal extension number: Suita 4948)
Front desk at Machikaneyama Facility -- Tel: 06-6850-5000 (On-campus internal extension number: Toyonaka 5000)