2015.4.7 Tue
Current Student

Faculty / Staff
"Aozora" Nursery Room for Children with and Recovering from Illness
In April, 2015, in addition to the on-campus nursery schools, Osaka University will be opening a nursery room for children with and recovering from illness, "Aozora."
For those children of Osaka University faculty and staff who require special care at home, the "Aozora" nursery room will collaborate with pediatricians from the Osaka University Hospital to provide constant care and support faculty and staff in their child-rearing endeavors.
• For more information on use of these services and other details, please click here .
• For childcare of those children with or recovering from illness, you must register at least 10 days in advance of using these childcare services. Registration is free, and we are currently taking applications.
• You may also observe the nursery room during the following times listed below (no registration necessary).
Thursday, April 9, 2015~Friday, April 10, 2015 -- 16:00~18:00
Overview of the "Aozora" nursery room
Location : 1F, Nurse Residence Building #4, Osaka University Hospital
Facility Overview : Two (2) nursery rooms, one (1) quiet room ( 76㎡ total)
Eligibility : Children of Osaka University staff (both full-time and part-time) who have or are recovering from an illness
Ages : 6 months until entering elementary school
Capacity : 3 (includes quiet room)
Hours : Monday~Friday -- 8:00~18:00 (does not include national holidays or New Year holidays)
Fee : 500 yen/hour
Opening date : Monday, April 13, 2015
Map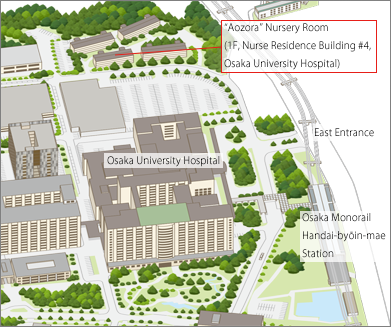 To view the route to the parking space for users
Contact
Support Office for Diversity Promotion in Human Resources, Department of General Affairs and Planning (2F, Administration Bureau South Building, Suita Campus)
TEL: 06-6879-4760 (extension 9628, 4760)